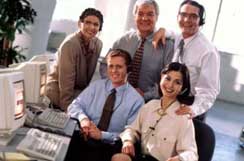 Professional Employer Organization Services
Professional employer organizations (PEOs) enable clients to cost-effectively outsource the management of human resources, employee benefits, payroll and workers' compensation. PEO clients focus on their core competencies to maintain and grow their bottom line.

PEOs contractually assume substantial employer rights, responsibilities, and risk and, through the establishment and maintenance of an employer relationship with the workers assigned to its clients. More specifically, a PEO establishes a contractual relationship with its clients whereby the PEO:
assigns workers to client locations, and thereby assumes responsibility as an employer for specified purposes of the workers assigned to the client locations;
reserves a right of direction and control of the employees;
shares or allocates with the client employer responsibilities in a manner consistent with maintaining the client's responsibility for its product or service;
pays wages and employment taxes of the employee out of its own accounts;
reports, collects, and deposits employment taxes with state and federal authorities;
establishes and maintains an employment relationship with its employees that is intended to be long term and not temporary; and
retains a right to hire, reassign, and terminate the employees.

Family Budget Planning is never easy
Quality employee benefits attract good employees
Benefits of Using a PEO
For the business :
Controls costs
Saves time and paperwork hassles
Provides professional assistance with compliance (e.g., payroll, IRCA, EEOC)
Reduces turnover and attracts better employees
Manages claims (e.g., workers' compensation, unemployment insurance)
Provides better benefits packages(s)
Provides professional human resource services (e.g., employee handbooks, forms, policies and procedures)
Reduces accounting costs
For the employee :
Access to comprehensive benefits previously unavailable
Better employer/employee communications
Payroll on-time and accurate
Professional assistance with employment-related problems
Professional orientation and employee handbook
Extension of statutory protection to more employees
Up-to-date information on labor regulations and workers' rights, worksite safety
Efficient & responsive claims processing
Portable benefits (employees can move from one PEO client to another without loss of eligibility for benefits)
For the government :
Consolidates several small companies' employment tax filings into one
More professional preparation and reporting
Accelerated collection of taxes
Extends access to medical benefits to more workers
Improves the communication of government requirements and changes to small businesses
Reduces litigation by resolving many problems before they reach court
Allows government agencies to reach businesses through a single-employer entity